Real-Time Ultrasound Biofeedback
Identifying and Training Your Deep Muscles Layers
Real Time Ultrasound Imaging (RTUS) is the perfect tool for reliably assessing and training the deep muscle layers, including the deep abdominals, back and pelvic floor muscles which act to stabilise the pelvis and the spine.
The health of these muscles is important to prevent injury and improve your performance. Numerous studies have shown that the weakness of these muscles correlates to pain of the back, groin and hip.
Insufficient strength and/or inability to activate them can cause pain for people with sedentary jobs as well as for athletes.
Real time ultrasound biofeedback is really useful for anyone suffering with pelvic floor dysfunction related to Incontinence, Pelvic Organ Prolapse or Erectile Dysfunction. It also provides measurement of the amount of urine in the bladder, enabling us to check that there is complete emptying.
Patients with these dysfunctions often complain of a lack of awareness of their pelvic floor contraction because the pelvic floor muscles are deep and difficult to access.
But with the aid of ultrasound imaging, the relevant muscle groups can be seen and their activity measured.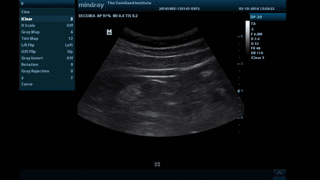 How does Ultrasound Biofeedback Work?
Real time ultrasound allows you to learn how to contract muscles by visualising their activation. Seeing your muscles move as you feel them contract is a very powerful training tool.
When the ultrasound image is gained through the abdomen, there is no need to undress.
When visualising the closure mechanism of the pelvic floor on the urethra, the image is gained through the perineum.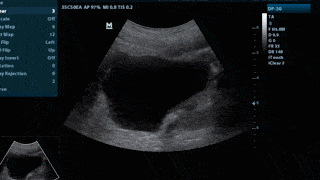 What Are the Advantages of Treatment?
At Coregood, being equipped with RTUS enables us to assess you more accurately and treat you more effectively. Without it, we would be left hoping that your deeper muscle layers were being recruited correctly.
We consider it a vital tool in your management so there is no additional fee for its use, just benefit to you.
Real Time Diagnostic Ultrasound offers the patient a number of advantages, including:
proven to be 100% safe with no side effects (e.g. no radiation)
cost-effective
immediate (real time) detection and reporting of body structures and function
the ability to view moving structures which can identify and treat dysfunction (and teach correct function through immediate feedback)
can be used on patients with metallic implants such as pins, plates and screws, as well as hip/knee replacements, cochlear implants and pacemakers
pain free, and
non invasive.
Give us a call on 0800 267 346
to book an initial consultation or fill in the form on our contact page