PelviPower Magnetic Field Therapy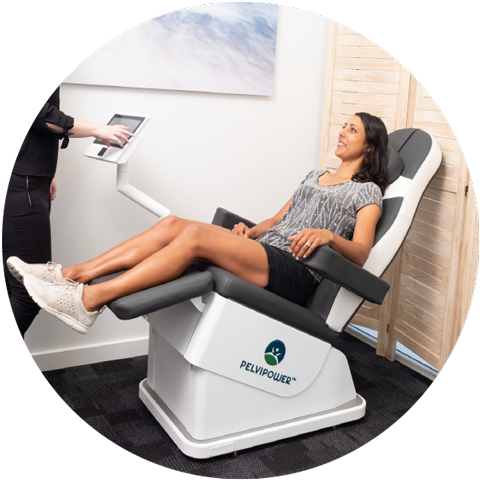 Effective Pelvic Floor Training
PelviPower utilises advanced technology to revolutionise the way pelvic floor disorders are treated.
PelviPower Magnetic Field Therapy (MFT) uses a repetitive impulse to trigger small electrical currents in the nerves which, in turn, leads to comfortable but powerful contractions of the pelvic floor and surrounding muscles.
With contractions much stronger than you can achieve yourself, the function, coordination and strength of the pelvic floor is improved. PelviPower is effective for people who cannot reliably complete conventional training on their own or for those who prefer a rapid and simple method.
PelviPower has been medically proven to be a safe, non-surgical solution for many common pelvic, back, urinary and sexual health issues in women and men.
By strengthening the pelvic floor muscles and core muscle function, it can improve continence, help prevent and control prolapse, optimise erectile function, intensify orgasm and reduce back pain and instability.
At the Coregood Physiotherapy we have been using repetitive magnetic impulse stimulation to produce significant improvements in our patients' pelvic floor function since 2015. Based on our experience and research in the area of pelvic floor health, we believe PelviPower is the leading technology when it comes to the non-surgical treatment of pelvic floor issues.
This is because PelviPower combines Magnetic Field Therapy with Bio-Feedback-Training methods to train your pelvic floor and surrounding muscles purposefully and effectively.
Highly Effective Treatment for Stress Urinary Incontinence
Independent research has confirmed that Magnetic Field Therapy is a highly effective non-surgical treatment option for Stress Urinary Incontinence. PelviPower is the world's leading technology in the area of Magnetic Field Therapy.
Randomised, double-blind, placebo controlled research (the most reliable type of research) measured the immediate and long term response rates following treatment.
The results, published in the American Journal of Urology, have proven that treatment:
Delivers a 75% success rate immediately following treatment – conventional self-guided pelvic floor muscle training ('PFMT') typically delivers a 15%-56% success rate
Delivers long lasting results with the success rate still at 70% 12 months after treatment ended (typically, PFMT results quickly fade following treatment).
Magnetic Field Therapy also compares favourably with surgical options which offer success rates of 56%-98% after one year (but with associated risk).
Strengthening the pelvic floor muscles is a gold standard medical recommendation to address incontinence, prevent or control prolapse, optimise erectile function, intensify orgasm and reduce back pain and instability.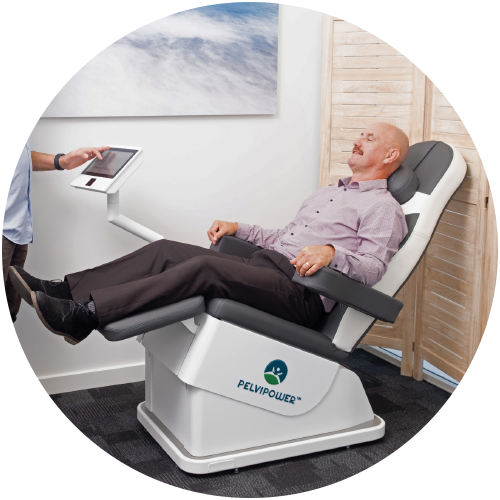 What Conditions Can PelviPower Magnetic Field Therapy Treat?
PelviPower training is recognised for its efficacy in treating many common pelvic floor disorders, including:
Stress, urge and mixed urinary incontinence
Overactive bladder
Faecal incontinence
Pelvic organ prolapse
Pelvic pain, abnormal muscle tone
Interstitial cystitis
Prostatitis
Postnatal bladder weakness
Rehabilitation after childbirth
Low back pain
Erectile dysfunction
Premature ejaculation
Inability to climax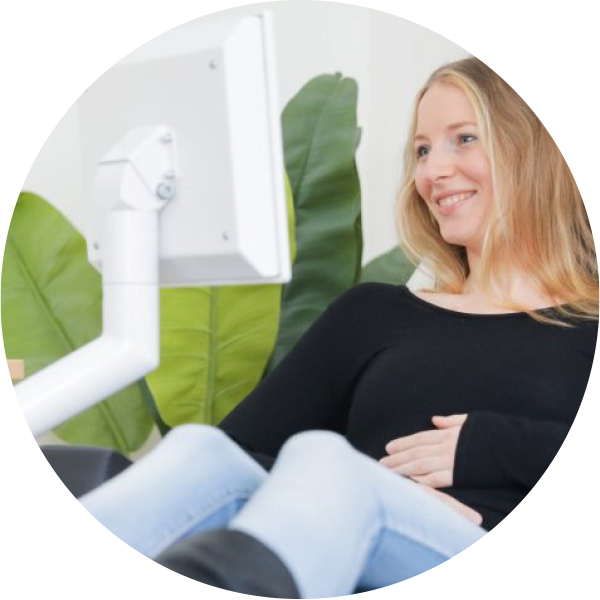 What are the Advantages of Treatment?
PelviPower is medically proven to be a safe, non-surgical solution for many common pelvic, urinary and sexual health issues, offering the patient many advantages over other treatment options:
PelviPower training combines Magnetic Field Therapy with non-invasive PelviPower Bio-Feedback-Training
This simple and painless training has a stronger effect than conventional pelvic floor exercises or independent training
The intensity of PelviPower Magnetic Field Therapy produces results in a much shorter time and research indicates that the results tend to last longer
It is impossible to train incorrectly and you do so in your everyday clothes
Because strengthening the pelvic floor improves awareness of it, contracting these muscles in your day to day activities becomes much easier
Other positive side effects can include improved sexual sensitivity, a reduction in cellulite and reduced back pain.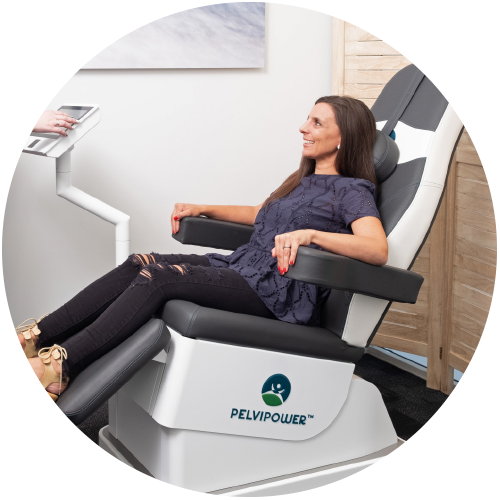 A Typical Treatment Plan
After an initial assessment, an appropriate treatment plan can be recommended.
However, a standard treatment plan usually involves 10-20 training sessions, preferably 2-3 times per week (but not on consecutive days).
Treatments are started at a low intensity and gradually built to a higher intensity as you progress. One or two days in between sessions is recommended for optimal recovery.
Just like strength training at the gym takes a number of sessions – pelvic floor muscle strengthening is the same. Long lasting results take a course of treatment. However initial results are typically noticeable after just 2-3 treatments.
Treatment is not possible when:
You are pregnant
You have metal implanted in your pelvic area, such as: joint replacements, surgical clips and metal IUDs or piercings
You have electronic implants (pacemaker)
You have epilepsy
You've had surgery or radiation in the pelvic area in the previous 4 weeks, and/or
You have a severe cardiac arrhythmia.
As with all medical treatments, we monitor your progress and you have the right to stop treatment at any time.
Give us a call on 0800 267 346
to book an initial consultation or fill in the form on our contact page